IFO reagents automated dosing
Developed by IFOTOP specialists IFO AQUA-MONITOR automated reagents supply system includes all the necessary elements for safe and economical dosing of expensive reagents: dosing pumps for constant and automatic periodic dosing, electrodes and controllers for pH, ORP and conductivity, a fluorometer for inhibitor concentration control (if required), sensors, corrosion witness samples, sample thief, necessary for flow rate and corrosion monitoring fittings (filters, injection valves, etc.). Reagents, specifically corrosion and scale inhibitors, non-oxidizing biocides, biodispersant and sludge dispersant are based on our own-produced patented or classic molecules and could be dosed directly from commercial packages (cans, barrels, intermediate bulk containers) or pumped into the customer's consumable container. Based on stabilized hypobromous acid  oxidizing biocide can be also supplied upon the customer's request.
IFO AQUA-MONITOR automated reagent dosing system advantages:
– Water stabilisation treatment real-time analytical monitoring with a wide range of electrodes, including instantaneous corrosion rate control by the LPR method;
– Biocides and dispersants automated periodic dosing without the operating personnel involvement;
– Reagent dosing system shutdown in the case of hazardous situations;
– Economical reagents flow due to new pumps tested in operation;
– System commissioning and IFOTOP specialists 24-hour technical support;
– Development of individual solutions that meet the customer needs.
IFOTOP is the self-regulatory organisation member (SRO certificate) and can perform automated reagent dosing stand commissioning.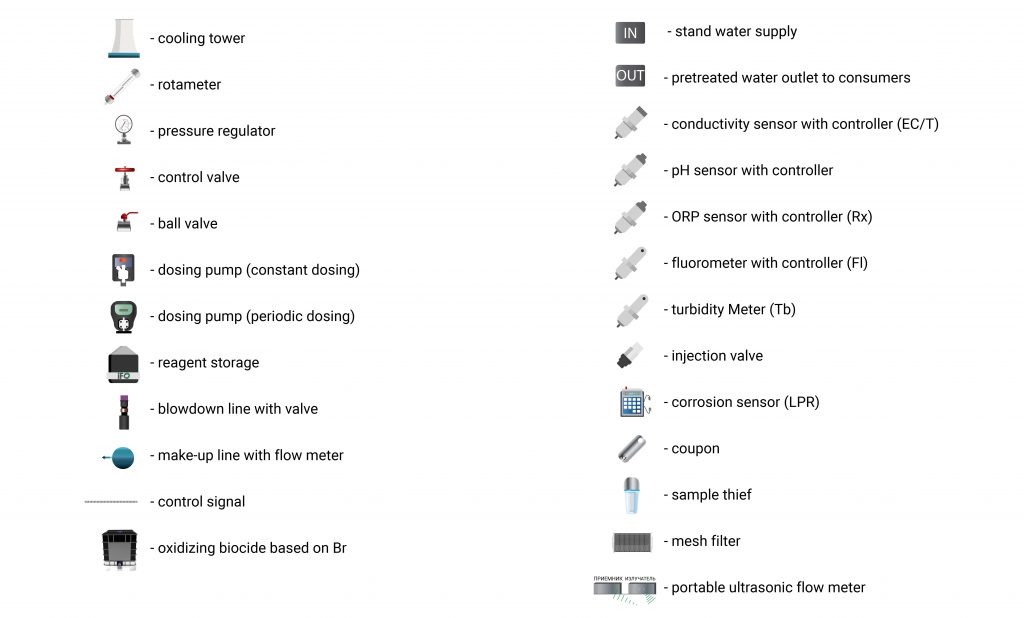 corrosion rate and deposits formation control
IFO Corrosion and scale inhibitors are tested for protective functions and biocides compatibility on developed according to NACE SP 0189-2013 and ASTM D4778 standards IFOTOP test benches.
Test benches are made in the form of mobile units, with which IFOTOP specialists arrive at the customer's facilities for individual selection of optimal water stabilization treatment reagents package.

Test cell (1 - metal coupon - tube)
Linking up to the customer's system for real time scale controlling or to a laboratory container with the water circulation system/model environment water sample for the inhibitor dosages selection.