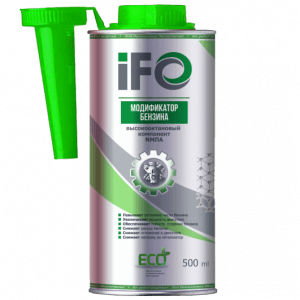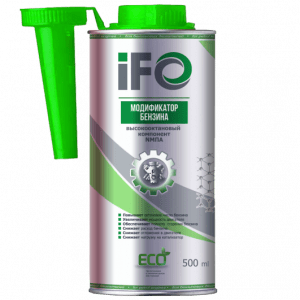 IFO is the universal gasoline modifier developed by IFOTOP specialists. The active ingredient of the composition is molecule of N-methyl-p-anisidine, that was synthesized in our laboratory.
Gasoline modifier IFO is a multifunctional additive, it has a positive effect on several characteristics of gasoline at once. Thanks to the N-methyl-p-anisidine in the composition, it provides:
Complete combustion of gasoline.
Raise of the octane number.
Removal of fluid from the fuel system.

Improving the lubricating properties of gasoline.
Patented development with proven quality
Protection of metal parts from corrosion​
Increase of lubricating properties​
Ensuring the completeness of combustion of gasoline and reducing fuel consumption​
Reducing the load on the catalyst​
Removal of water from the fuel system​
Care for the environment - reduces harmful substances in the exhaust gases
No encrypted components, the exact composition is on the product​
Absence of metals (iron, manganese, lead, etc.)​
The absence of banned in gasoline compounds - monomethylaniline (MMA)​
Good solubility in gasoline​
Absence of the saturation effect - the octane number increases in proportion to the amount of the additive​
Compatibility with all types of additives and fuels​
The additive was internationally certified in gasoline of Euro 5 and Euro 6​
The molecule contains an ester and an amino group, combining all positive properties of substances classes compounds.
Ethers - low-toxic substances, which due to the oxygen content contribute to the processes of complete combustion of fuel; while they are ineffective for increasing the octane number.
Amine - high-performance substances to increase the octane number, but they are very toxic.